Are you creative? Do you regularly get stuck in a TikTok loop?
Is Halloween your favourite time of year?
If your answer was yes to all of the above, then we have the perfect challenge for you… 
You could win an EXCLUSIVE behind-the-scenes experience with our professional Terror Island make-up artists and receive access for you and a friend to our invitation-only Press Night on 15th October!
Just show us your transformation, like this… 
Above is an example of an Amphibious! scare maze look by @meganjadehulacka. 
We are asking you to create a make-up look based on Terror Island and film a TikTok to share on your personal platforms.
Examples of inspired looks you could create are: 
The Blood Shed scare maze

 

Amphibious scare maze 

HEXcavation scare maze

 

A look inspired by the event 'Terror Island' colour palette / theme

 
For more ideas, our scare maze descriptions can be found on our Attraction Pages.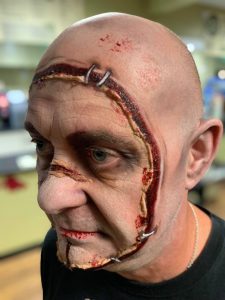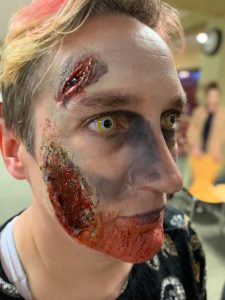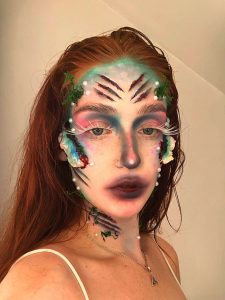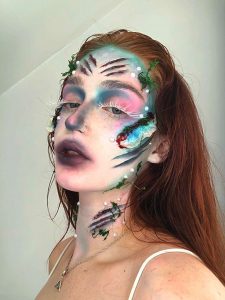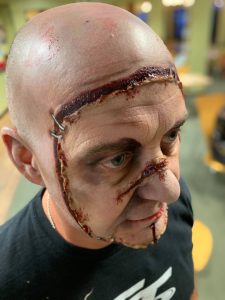 We want you to get creative! Once you've decided on your SFX design, just test it out on either yourself or a friend, and make sure to video the transformation for your entry!
You could do a before and after, a step-by-step or get truly creative with TikTok trends!
All you need to do is tag @terrorisland when posting your video on TikTok and use our event hashtags for your entry to be valid: #TerrorIsland & #thereisnoescape 
Midnight, 8th October 2021
This competition is open to all individuals, except for employees of Vectis Ventures Ltd.

All information detailing how to enter this competition forms part of these terms & conditions. It is a condition of entry that all rules are accepted as final and that the competitor agrees to abide by these rules.

 

The decision of the judges is final, and no further correspondence will be entered into.

 

For your entry to be valid, you must have tagged Terror Island's TikTok page, 

@terrorisland

, and used our challenge specific hashtags, 

#TerrorIsland

 & 

#thereisnoescape

 

All entries must be received by the advertised closing time and date (Midnight on the 8/10/2021).

 

All content submitted must be the work of the individual submitting them. It is the responsibility of each entrant to ensure that if any content they submit includes an identifiable person or persons have been taken with the permission of the person or persons pictured and do not infringe the copyright of any third party or any laws. Entrants must warrant that the content they are submitting is their own work and that they own the copyright for it.

 

Copyright of all content submitted for this competition remains with the entrants. However, in consideration of their entering the competition, each entrant grants a worldwide, irrevocable, perpetual license to Vectis Ventures Ltd to feature any or all of the submitted entries in any of their publications, websites, social media and/or any promotional material connected to Terror Island.

 

Maximum two entries per person. Late, illegible, defaced or corrupt entries will not be accepted. No responsibility can be accepted for lost entries and proof of transmission will not be accepted as proof of receipt. Entries must not be sent through agencies or third parties.

 

The winning entry/entries will be that/those which is/are judged to be the most visually appealing, original and self-explanatory. The winner will be notified within 5 days of the competition closing date.

 

The prize(s) will consist of 2 tickets to Terror Island's Press Night on 15th October and a behind-the-scenes SFX industry experience for the winner. All prizes are non-transferable and non-refundable.

 

Events may occur that render the competition itself or the awarding of the prizes impossible due to reasons beyond the control of Vectis Ventures Ltd and accordingly, Vectis Ventures Ltd may, at its absolute discretion, vary or amend the competition and the entrant agrees that no liability shall attach to Vectis Ventures Ltd as a result thereof.

 

Submission of an entry will be taken to mean acceptance of these terms & conditions.