15th October: Press Night
22nd, 23rd, 29th, 30th & 31st October: General Admission 
Event open 6pm – 11pm. Scare maze attractions open from 6:30pm.  
General Admission Ticket: £23.50 
Frequent Visitor Pass Ticket: £18.00 
(available to Blackgang Chine, Robin Hill and Joint Park FVP holders)
Group saver (10 people): £180.00  
(perfect for a work night out!) 
Ultimate Student Saver Ticket: £35.00
All tickets include: 
– Entry to the event 
– Single access to three scare mazes (additional entry can be purchased) 
– Pop-up street entertainment 
– Bar (over 18s) & street food 
– Live DJ 
– Free parking 
– An epic night of entertainment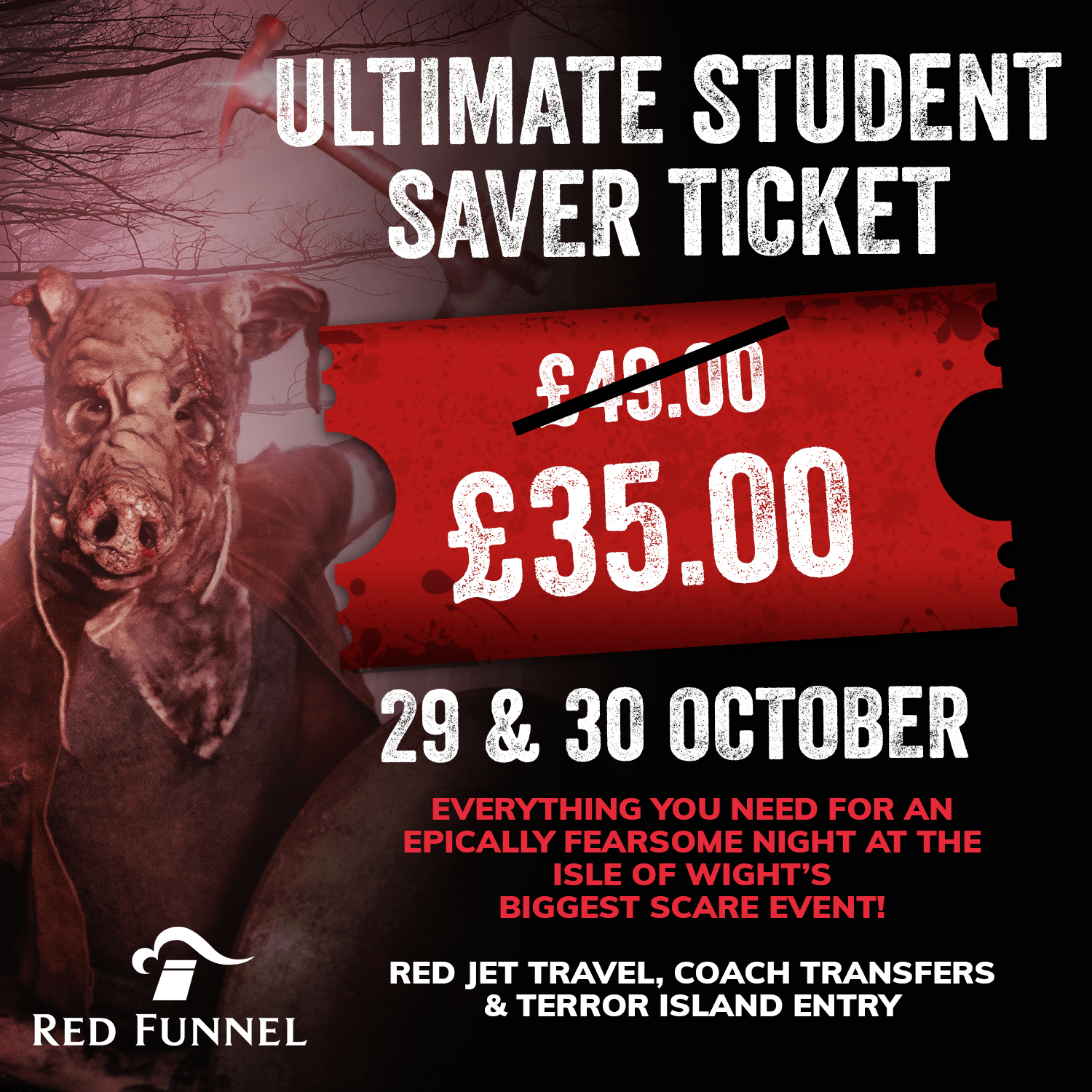 Ultimate Student Saver Ticket – Less than 100 tickets available!
One inclusive ticket for the ultimate night of terror at the Isle of Wight's biggest scare event!
Return Red Jet ferry travel
Coach transfers both ways
Entry to Terror Island, including entry to all mazes!
This awesome saver is the best value ticket and includes absolutely everything planned for you! A full itinerary including travel has been sorted so you can quite literally, sit back and enjoy the ride to the south coast's newest, award-winning scare attraction!
On either 29th or 30th October, meet your mates in Southampton and be treated to priority boarding on the Red Jet for this fast-track Terror Island experience! Board the 17:35 sailing, encounter your decaying tour guide when you arrive on the Island and follow him to your exclusive coach transfer. Take a seat and try to relax on your journey to…Terror Island!
When you arrive, you're free to explore the event! Brave the three blood curdling scare mazes, enjoy delicious street food, and listen to the live band and DJ! There'll be plenty of chances to fill up on liquid courage, but you won't have long to re-set the fear gauge before Circus of Uncertainty street entertainers make their way to you…watch out for their knives, whips & fire!
Once you've had your fill of mazes, rides, and entertainment, you'll be packed back on the coach at 22:30, ready for the 23:35 Red Jet sailing!
There's less than 100 of these tickets available, so book yours now! A full itinerary will be provided for the ultimate night of fear and entertainment!